HERMES is a unique training platform intended to provide interactive training courses for all people active in counter-radicalization activities.
HERMES was financed through the projects DERAD and TRAINING AID.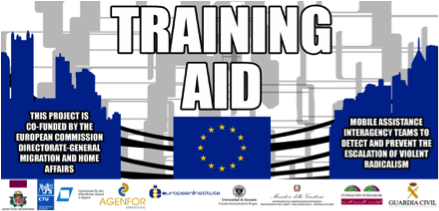 DERAD and TRAINING AID are currently recruiting 50 experts from 26 European countries to attend one of the 6 Training of the Trainers (ToT) courses organised under the two projects. Each expert will be asked to deliver one or more national training courses in their own country. Each expert will be in charge of structuring the national course, choosing among the content presented during the ToT and translating everything into their own language. The HERMES Team will give the necessary support in order to make the national course available into the platform.
The ToT in Munich is a pilot therefore each participant has been enrolled in the course by the HERMES Team and the exercises in the modules are not activated yet. For further information please, take 15 minutes to watch the video tutorial.


https://www.traininghermes.eu/pluginfile.php/2/course/section/13/Video%20tutorial%201.mp4



Please click here to consult the manual on how to use the platform.
Please click here to consult the Most Frequently Asked Questions.
Skip annunci del sito
Annunci del sito
(No announcements have been posted yet.)
Skip available courses
Available courses
ToT_Main English Course_Bucharest
Course